We stopped by a Vons on the way home from Thanksgiving dinner. I'll tell you what – this is a good time to shop for meats, right after Thanksgiving. We picked up a 22 pound turkey for under $7 and about $100 worth of pork loin for about $30. Good prices!
The turkey is for a dog club holiday party in a few weeks. The pork loin for a Loin's Club Christmas Party a week after Thanksgiving. The 'best by' dates were still far off, so the loin stayed in the refrigerator. There isn't enough room for the bird, so it went into the freezer.
Jen asked to have one loin with a Chinese BBQ marinade that we have used before and really liked. Wasn't sure how it would smoke up, but I said "sure!". It was being smoked the day after her birthday after all… The other one I wasn't quite sure what to do with. That is until I opened the cabinet to check out some rubs and saw the apple rub. For some reason that jumped out at me as a perfect flavor for the pork. It was D-Dog's Apple rub.
Started off by marking the Chinese BBQ marinade. I multiplied the recipe by eight since the loin I was going to use was an 8 pound giant. After making it I knew it still wouldn't cover it, but just couldn't bring myself to make even more. So I figured I'd turn it as few times before bed and again in the AM.
Here is the finished marinade…
Here is the loin after sitting all night and being turned. It looked like it took on the marinade pretty well. There wasn't enough room in the refrigerator for a pot or bowl big enough to fit the loin and marinade, so I coolered it on ice with a thermometer over night.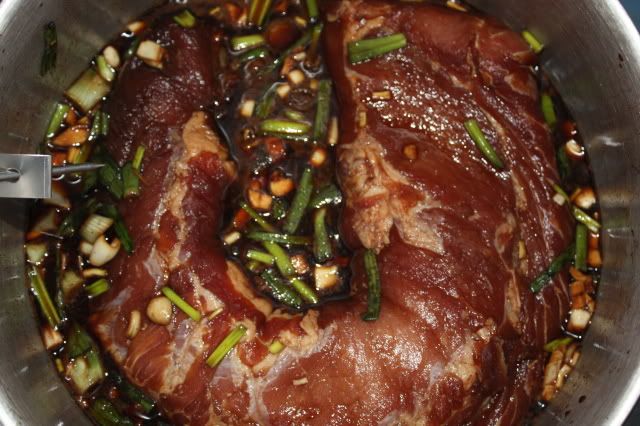 I'll include the full recipe for the Chinese BBQ marinade at the end of this post. And yes – it does work well in the smoker.
The 6.5 pound loin got a mix of my secret sauce and a liberal rub down of the D-Dog's Apple rub. It was plastic wrapped and put back in the refrigerator for the night. Sorry, I failed to get a photo here.
In the morning Mojo (one of "the" Big Dog's) helped by testing out some of the oak I was going to use…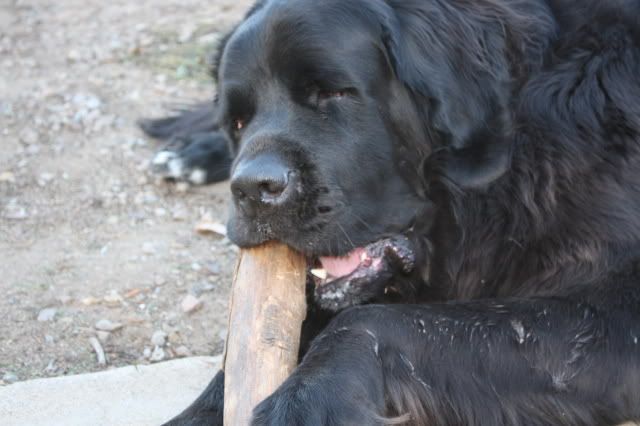 After the wood was declared ready for use I got a full chimney of lump charcoal going and got ready to go.
This is only my second time using this smoker. I know that it leaks air like crazy – need to work on that. I was also working with a new thermometer today. The temps were all over the place and finally settled down after nearly an hour.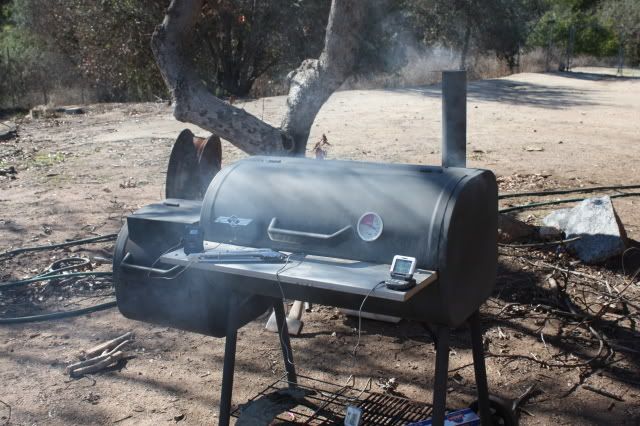 One of these days I need to spend some time working on sealing up the doors on this smoker. Don't really need to open the chimney much with all the leaks this guy has!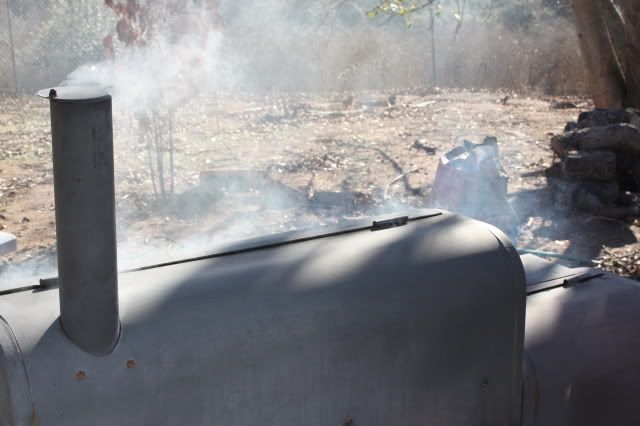 I figured what I would do is put on the larger loin for 60-90 minutes before putting on the smaller one. Hoping that they would finish about the same time. So I got some fresh oak on the fire to get the smoke going, and dropped in the Apple rubbed loin. If you caught my error here you were faster than I was. It wasn't until I went to get the Chinese BBQ loin about an hour later that I realized I did them backwards! I dropped the 6.5 pound loin first! Oh well – that's how it goes…
So the Apple rub went on first…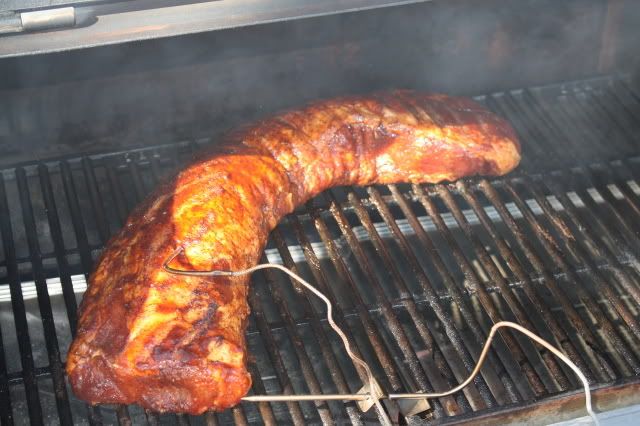 Temps were a little high for the first hour too – on top of my mistake! So it was crusin' to temp a lot faster than I had expected. Maybe because for the first hour the temp was 25* higher on the grill than I thought it was! That could have just a little to do with it.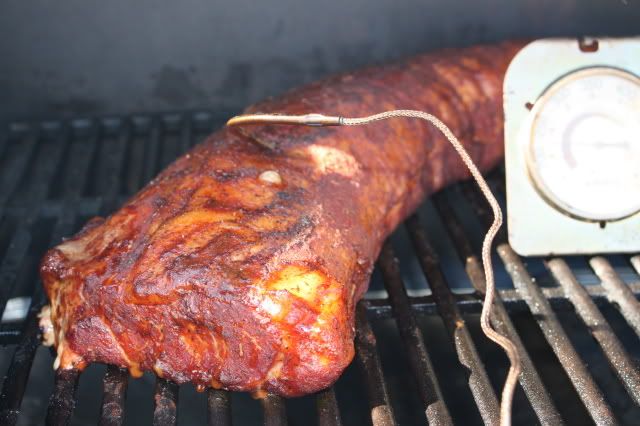 I pulled and foiled the Apple rub loin at about 145* F. Then I added the Chinese BBQ loin…
I worked to keep the temp in the middle of the smoker at grate level around 120* – 130*. My target of 125* was fairly steady. After the Chinese BBQ loin went in I added another little piece of oak to get some fresh smoke going. Also added a little fresh lump first to keep the temps going.
I used a lot less charcoal than on my last smoke (Pork Butt). I think there was less wind, and the lump burns a bit hotter, and I was using some whole oak wood too. I think it was a lot to do with the wind. Looking back at the photos for that last smoke I recall how windy it was – we had to wrap the smoker to keep the heat up!
The smaller loin came off the pit when it hit 160*. It would have to sit for a bit since it went on too early and cooked faster than I had expected. I decided then to not cut these till just before leaving – in the hope of keeping them as moist as possible.
I foiled the 8 pounder when it hit 150*. It came off at about 160*. It would have to sit a little over 90 minutes before I would be ready to cut.
Here's the Chinese BBQ loin sliced and ready for the pan. This one was really nice when served. I foiled it and pulled it earlier than the smaller one. So it was REALLY juicy. Which was nice because it held up better to sitting in the oven for a bit – it was still nice and juicy when served.
And here's the Apple rub loin all sliced up. This one turned out to be just a little dry, but not too bad. I cooked it a little too far, especially since it ended up sitting in the oven for awhile before being served.
Something must have gone right – I got lots of compliments on the pork throughout the night.
I would certainly do pork loin again. I think the key is to foil early, and cook to medium doneness (150*) and pull. It will continue to cook more, so if you go any further than that it will start to dry out.
OK – I promised to include the Chinese BBQ pork marinade at the end, and here we are…
Chinese BBQ Pork – from the "Chinese Cooking Class Cookbook" put out by the Editors of Consumer Guide back in 1980. This cookbook is dirty because we use it a lot, there are some good recipes in there.

[ Note: this recipe is really for an appetizer dish (for 2 pork tenderloins at 12 oz each) – so it doesn't make a ton – but do the math and make what you need, it is an easy one. I made 8 times what it calls for and wasn't able to submerge my 8 pound pork loin, but it was OK since I turned it and had it marinating for 10 hours. ]

1/4 cup soy sauce
2 tablespoons dry red wine (I used a Cabernet Sauvignon we opened for cooking a few weeks ago]
1 tablespoon brown sugar
1 tablespoon honey
2 teaspoons red food coloring, if desired (I did not do this)
1/2 teaspoon ground cinnamon
1 clove garlic, crushed (I cut it up a little too)
1 green onion, cut in half (I cut it into about 4-inch pieces)
What is your favorite method or trick for pork loin in the smoker?
.