We finally got our entry cards for Restaurant Depot so just had to wander around a bit. Hit heaven when we walked into the cooler – that's a lot of meat in there! Pork Butt was on sale, OK, force me – I'll grab 14 pounds and see if the smoking gods let me make some smoke this weekend. As you see below, it all worked out.
Got the smoker and all out in the open and ready to go…
Did not get the butts rubbed and in the refrigerator overnight since I wasn't sure it was going to happen. So they got about an hour or so rubbed and wrapped. I used Bad Byron's Butt Rub over my secret base again. Need to try some other rubs next time. Or better yet, make my own.
I wanted to try smoking at a bit higher heat this time to see if I could get the cook time down a bit while still keeping the end product moist and tasty. Ended up with about 8 hours for the bigger piece (smoked closer to the fire box) and 8 1/2 hours for the smaller part.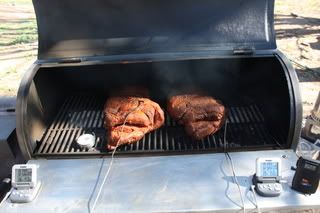 Here's a peek after about two hours. This is my first time with boneless (I meant to grab the on sale bone-in, but didn't read the label carefully!). Things look like they are progressing well.
After four hours things are really coming along. The bark is starting to firm up well. Looking pretty tasty.
The Five hour mark is where the bark really sets in. Man it was dark. Still chugging along with the Best of the West lump (a ton of shake in this bag – is that common?). First time with Best of the West – not sure how I feel about it. I know a lot of folks use it, so I think I'll try it again and see if I feel better about it next time. Got it on sale at Smart & Final – so that was a bonus! OK, back to the meat – here we are at five hours…
I pulled the larger piece at 190* (foiled at 170*) and let rest for 15-20 minutes.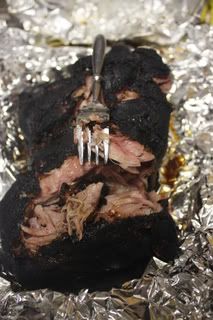 Then got pulling. Moist. Bark was a bit strong for my wife's taste, but she loved the meat. It was nice to catch her sneaking some meat when I was in the other room. She really did like it!
The smaller piece was further from the fire box and went to about 193* in 8 1/2 hours (I also foiled this one at about 170*). Let it rest for about 20-25 minutes and started pulling.
Good results here too. Very moist. Nice and dark.
Got it bagged up and in the refrigerator. I think I know what's for lunch today!
Need to spend some time with the vacuum packer today. Like many out there, I like to freeze it in single or double serving sizes and then reheat by boiling for 20 minutes or so before dropping on some bread for lunch.
I added some oak and a little avocado wood along the way on this cook. Need to resupply the cooking wood pile.
I was thinking about doing an apple juice injection, but since I got a late start on things I was just scrambling to get it going. Even had to fun to Smart & Final to get the charcoal since I was out and my oak supply has dwindled.
This should keep me set for pulled pork sammies for a bit! If I'm not careful my wife will start eating them too – I guess that's OK. Just means I'll have do cook more!